Halfway through the year already!! Aaah! A
quick
update of things just gone and things to come...
1. Spoken Word Educators project
As of this week, my first academic year at
Goldsmiths
has come to an end - and I have the library fines to prove it! That said, I'll be participating in a couple of events there over the summer, including next week's
London Youth Speaks
event, which I'm looking forward to.
My time at Holy Family school in East London has also ended and I'll be teaching at another school in Hackney from September. Having already met some of the staff and pupils there, I'm excited. More on this to come (I always say this... but you'll see!)
My last day at school was particularly heart-warming. Mid-morning, we had a brief talk and poetry show with some of the pupils, a few members of staff, Peter Kahn - the project's founder -, two of my fellow educators and Baroness Jones, Shadow Spokesperson for Education. Hearing the pupils and staff comment on how they've progressed over the year - and how learning to express themselves through poetry has played a part in that - has been a massive personal boost, and it's kept me smiling ever since.
Also, given the increasingly politicised nature of the National Curriculum (take a look at what's happened to
history
, as just one example - or try
here
for an academic perspective) and the damage I believe it's doing to education, including forcing a lot of good teachers to
quit their jobs
, it was great to have this positive, pupil-centred celebration of success. Of course, I'm under no illusion that poetry will remedy all the world's ills; however, I know it's given me and many other people a voice, and I think it's not a bad way of combining literacy with emotional literacy and public speaking - three very useful skills in one. But I've said this before.
Let me instead quote from what
Baroness Jones says here
about the pupils she met:
a room full of articulate, funny, thoughtful young people excited about what they had, and could, achieve.
I'm really glad to have been at this school, and I'm looking forward to continuing my training as an educator in Hackney. I do know, however, that my future as a Spoken Word Educator is a precarious one, dependent on forward-thinking schools and their budgets on the one hand, and politicians who are prepared to listen and allow some creativity into the curriculum on the other. Considering politicians spend much of their time preparing speeches, you would think that all parties would appreciate the value of speaking skills; yet this year, they have been all but eliminated from English assessment criteria!
Aaah! Off the soapbox...! Yes, the summer showcase, a week previous, went really well and
it's not just me saying it
! There'll be some video footage coming at some point; when I hear more, I'll shout.
2. D.C., V&A, other gigs and ting
I didn't really say much about my trip to Washington, D.C., except that it was fantastic.
The usual stuff applies - I walked around; took a few photos; spoke to a few people; marvelled at how small the White House is compared to how I imagined it; walked some more; indulged in the Chilli Hot Dogs at the famous Chilli Burger place which didn't get burned down in the 70's riots - which Bill Cosby takes well to, apparently -; got some sun; blah blah blah. But added to that, I got to meet some great human beings who happen to be poets, and I talked with them till sun up and woke up again at 10am to go to a discussion, or to a donut breakfast panel, or whatever else was on the jam-packed programme.
Then I remembered I was there to take part in a slam, and so I had to step up and compete. I performed a couple of familiar pieces (see below) and then I made it to the final! At that point, I decided to perform something I'd written that morning... very risky but I wanted to share - and as the mantra goes: "The point isn't the points; the point is the poetry". In the end, I was glad I did; it was well received and I was very pleased to come 3rd in the slam, with
Gabe Moses
from Atlanta and DC resident Adele Hampton coming 1st and 2nd, respectively. They both floored me with some intricate wordplay in their poems.
So, all in all, I got to listen to some great poems and I got to read some mind-blowing stuff in between talking and listening and eating donuts and chilli hot dogs. I owe massive thanks to
Reggie Cabico
who runs
Capturing Fire
and to Sophia Walker for the invite!
Back home and, in between preparing for the poetry showcase, for my last week at school and uni and for other freelance projects, I got to work with Angry Sam, Poetcurious and Benny Diction for the V&A event I mentioned last week. We basically mashed our heads together and watched the creativity ooze out. Bearing in mind the other three have - to varying degrees - been substantially influenced by the hip-hop scene, what came out was a true merging of forms and cultures. Seeing as we had only five days to work through our half-hour set, we stuck to our written scripts, though I would like to have had more time to learn it and experiment more with our delivery. That said, I'm happy with what the four of us did as a team; and as most of the visitors to the museum were there for a "cultural" artsy experience related to Dalston's Arcola theatre, I'm pleased we got such a positive response*.
So, it's been a lot of fun doing some team poetry again - I very much hope that there'll be more collaboration of this kind in the future!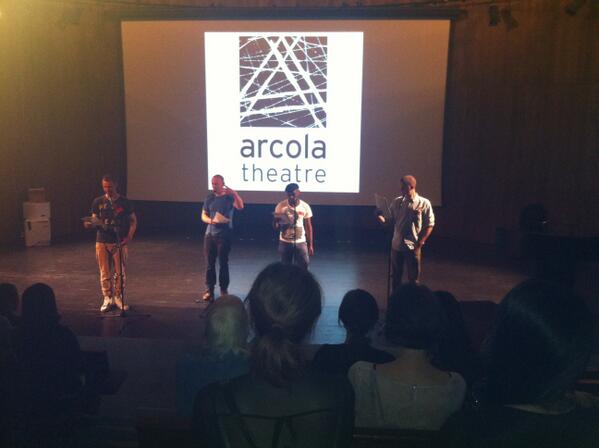 Last weekend, I also had the pleasure of seeing
J Mase III
perform in London, us having met in DC (he hails from Philadelphia). What a small world!
Next up, I have two rap-themed events coming on: Rap vs. Poetry (part 2) on the 14th and Southbank's RAP party in August. I'm about to get my hip-hop on. Goodnight!
(Next time: Some big news! plus Edinburgh, and fitting in some rest)
*Ok, let me clarify - if you know
Angry Sam
, the "poet thug" (his own words) who often writes highly-charged anti-establishment political pieces, or
Poetcurious
, hip-hop poet and "microphone vandal" (his words) and rapper
Benny Diction
, and if you also know the
Victoria and Albert museum
, home to a lot of arts and cultural exhibitions, but also home to large grandiose hallways filled with massive silver crockery, you wouldn't necessarily put us all together. But, I'm pleased to say, it went really well!